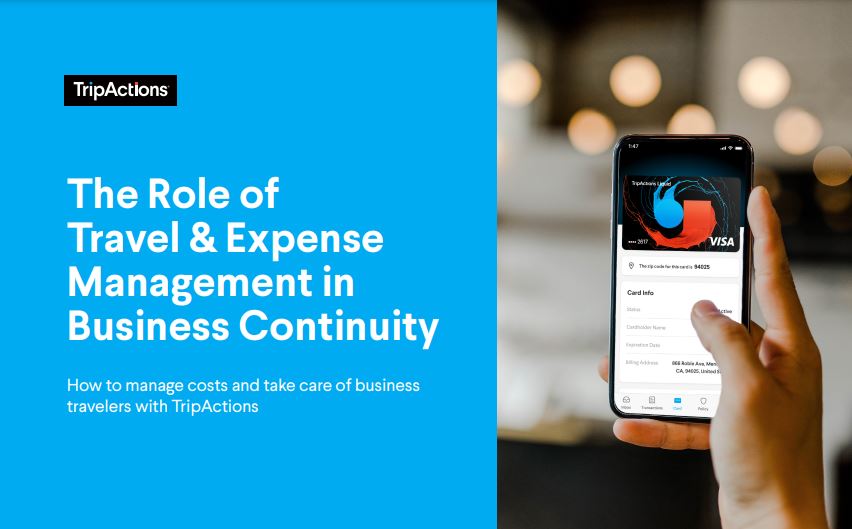 FREE WHITEPAPER
The Role of Travel & Expense Management in Business Continuity
How to manage costs and take care of your business travel 
When it comes to managing and optimizing corporate travel and expenses, many finance teams still rely on behind-the-times legacy systems that deliver a poor user experience, resulting in a lack of employee adoption and poor visibility into spend. 
Business travel plays a major role in this challenge, with many finance leaders listing travel and expense as their second largest controllable expenditure. 
Expense reports are a part of the problem. They limit and delay your finance teams visibility, which leads to a lack of transparency and control into spend, and an inability to accurately budget or forecast.
Companies looking to manage spend more efficiently amidst today's economic landscape need travel and expense management solutions that enable them to gain holistic, real-time control and visibility over spend, even if travel budgets have been reduced or flat-out frozen. 
This ebook explores strategies and tools that allow organizations to take the financial bull by the horns to optimize spend and maintain business continuity. 
DOWNLOAD YOUR FREE WHITEPAPER

By downloading this resource, you will be subscribed to the CFO Daily News email newsletter that delivers practical advice and resources to help you navigate everyday challenges. You may also be contacted by this whitepaper provider.