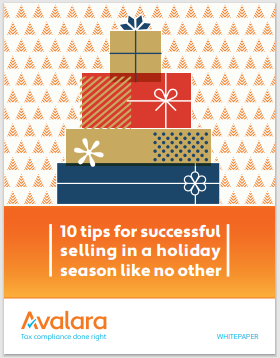 FREE WHITE PAPER
10 Tips for Successful Selling in a Holiday Season Like No Other
The 2020 holiday shopping season is projected to be unlike any we've seen before – largely due to shifts in how people have been shopping since the onset of COVID-19.
For the health and safety of employees and customers, brick-and-mortar sellers are imposing store capacity limits and social distancing rules. Such precautions, combined with shoppers' unease about venturing out during a pandemic, mean stores won't be bursting with the same swarms of shoppers they've traditionally seen on Black Friday.
So what does that mean for this holiday selling season? And how can your business prepare for the season ahead – whatever it may bring?
This complimentary whitepaper will share expert predictions and tips that will help you ready your business for the 2020 holiday season.
Download your free copy today – courtesy of Avalara!
DOWNLOAD YOUR FREE WHITE PAPER

By downloading this whitepaper, you will be subscribed to the CFO Daily News email newsletter that delivers practical advice and resources to help you navigate everyday HR challenges. You may also be contacted by this whitepaper provider.

You can unsubscribe from emails at any time.
Privacy Policy