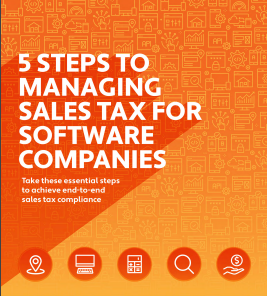 FREE WHITE PAPER
5 Steps to Managing Sales Tax for Software Companies
Essential steps for total sales tax compliance
The world of sales tax can be extremely confusing — sometimes even more so if you're in the software industry — but getting it right is crucial for your long-term success.
As your business evolves, your sales tax obligations will change and expand, too.
When that happens there are typically five steps you need to take in order to ensure you're compliant at every stage of the sales tax cycle.
We've identified these five steps for managing sales tax all companies should take to achieve compliance — no matter what.
Download your copy of this whitepaper to learn about these five crucial steps today, courtesy of Avalara!
DOWNLOAD YOUR FREE WHITE PAPER

By downloading this whitepaper you'll also be subscribed to the CFO Daily News email newsletter – delivering practical advice and resources to help you navigate everyday Finance challenges. You may also be contacted by this whitepaper provider.

You can unsubscribe from emails at any time.
Privacy Policy