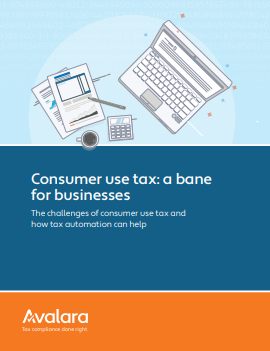 FREE WHITE PAPER
Consumer Use Tax: A Bane for Businesses
The challenges of consumer use tax and how tax automation can help
Consumer use tax has long taken a back seat to sales tax when it comes to compliance.
It's complex, and staying compliant is tricky – and unfortunately, that leads a lot of businesses to neglect it.
The bad news: that can lead to audits and fines, and that's not a winning strategy.
Tax authorities know what to look for where consumer use tax is concerned, which is why use tax errors are one of the top five drivers of costly and time-consuming audits.
Don't let your business be next. Download this complimentary guide to learn everything you need to know about consumer use tax – so you can ensure your company is compliant.
This whitepaper covers:
Where businesses often create tax liability 
Eye-opening statistics about consumer use tax 
Current best practices for tax management processes (and flaws to watch out for) 
The benefits of automating consumer use tax 
And more! 
DOWNLOAD YOUR FREE WHITE PAPER

By registering for this webinar, you will be subscribed to the CFO Daily News email newsletter that delivers practical advice and resources to help you navigate everyday HR challenges. You may also be contacted by this whitepaper provider.

You can unsubscribe from emails at any time.
Privacy Policy