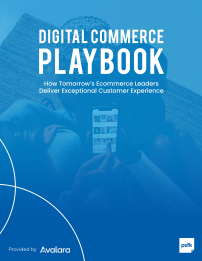 FREE WHITE PAPER
Digital Commerce Playbook
How tomorrow's ecommerce leaders deliver exceptional customer experience
As ecommerce evolves to meet the changing needs of the consumer, customer expectations have changed, too.
The retail experience has changed dramatically since the onset of the COVID-19 pandemic – and forward-thinking companies need to stay agile to maintain customer engagement and increase sales.
This complimentary whitepaper from Avalara will share top insights about the changing ecommerce landscape.
Download your free copy today to learn everything you need to stay competitive in 2021 and beyond!  
DOWNLOAD YOUR FREE WHITE PAPER

By registering for this webinar, you will be subscribed to the CFO Daily News email newsletter that delivers practical advice and resources to help you navigate everyday HR challenges. You may also be contacted by this whitepaper provider.

You can unsubscribe from emails at any time.
Privacy Policy