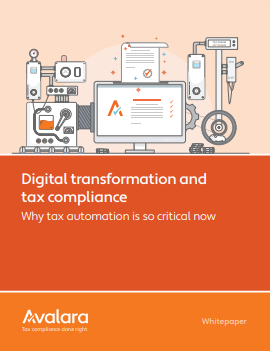 FREE WHITE PAPER
Digital Transformation and Tax Compliance
Why tax automation is so critical now
There's no question that COVID-19 took the world by surprise. What comes out of this crisis and our recovery is yet to be fully realized, but one thing is clear: for businesses, investing in technology is the path forward.
Even before the pandemic hit, business leaders across the globe were readying their companies for digital transformation. An IDG Survey of IT decision makers found that while 91% of respondents said their company had a digital-first business strategy, less than half were actively taking steps to implement one prior to COVID-19.
Needless to say, that's changing. In fact, one could argue COVID-19 merely accelerated the inevitable, forcing businesses to shift their road maps to be fully up and running with digital platforms and channels.
This whitepaper from the experts at Avalara will teach you everything you need to know about digital transformation and tax compliance in the era of COVID-19 and beyond – so you can ensure your organization is future-ready.
Download your free copy today – courtesy of Avalara!
DOWNLOAD YOUR FREE WHITE PAPER

By registering for this webinar, you will be subscribed to the CFO Daily News email newsletter that delivers practical advice and resources to help you navigate everyday HR challenges. You may also be contacted by this whitepaper provider.

You can unsubscribe from emails at any time.
Privacy Policy