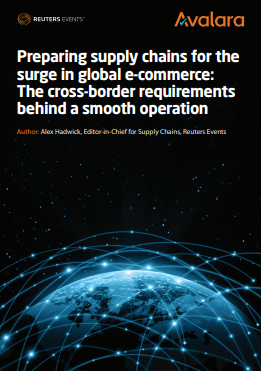 FREE WHITE PAPER
Preparing Supply Chains for the Surge in Global eCommerce
The cross-border requirements behind a smooth operation
COVID-19 kicked e-commerce into high gear. Consumers worldwide have shifted to buying online, and they're eager to take advantage of deals.
And experts believe that consumers' behavioral shifts and increasing focus on online shopping will continue long after social distancing has ended.
So it's increasingly important to be able to source and transport products worldwide – or you're losing out on potential sales.
International e-commerce is a complex environment to navigate. You'll need to prepare your organization to handle tariffs, trade regulations, documentation, and other protocols to be truly effective international seller.
That's why Avalara put together this comprehensive, expert-led guide to e-commerce that will help you lay the groundwork to build a successful international e-commerce operation.
Download your free copy today – courtesy of Avalara!
DOWNLOAD YOUR FREE WHITE PAPER

By registering for this webinar, you will be subscribed to the CFO Daily News email newsletter that delivers practical advice and resources to help you navigate everyday HR challenges. You may also be contacted by this whitepaper provider.

You can unsubscribe from emails at any time.
Privacy Policy