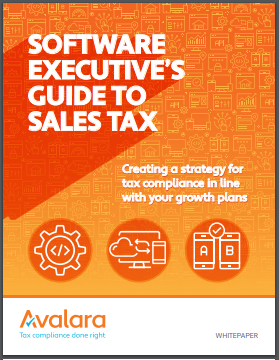 FREE WHITEPAPER
Sales Tax Updates for Software Companies
Creating a strategy for tax compliance in line with your growth plans
The tax landscape has shifted dramatically in the last year, and software companies in particular need to be on high alert for updates that impact compliance.
Without a solid plan in place to address recent tax changes, software companies face:
Inefficiency due to time and resources spent on tax compliance
Error-prone tax filings due to holes in compliance processes
Reduced growth due to a negatively impacted IPO, merger, or acquisition slowed or undone by tax compliance issues
In 2021, sales tax isn't independent of growth and efficiency; it's necessary to achieve both. And software taxability is particularly difficult to navigate.
This complimentary whitepaper will give you the tools you need to ensure total sales tax compliance this year – so you can protect your organization and prioritize growth.
Download your free copy today – courtesy of Avalara!
DOWNLOAD YOUR FREE WHITEPAPER

By registering for this webinar, you will be subscribed to the CFO Daily News email newsletter that delivers practical advice and resources to help you navigate everyday HR challenges. You may also be contacted by this whitepaper provider.

You can unsubscribe from emails at any time.
Privacy Policy