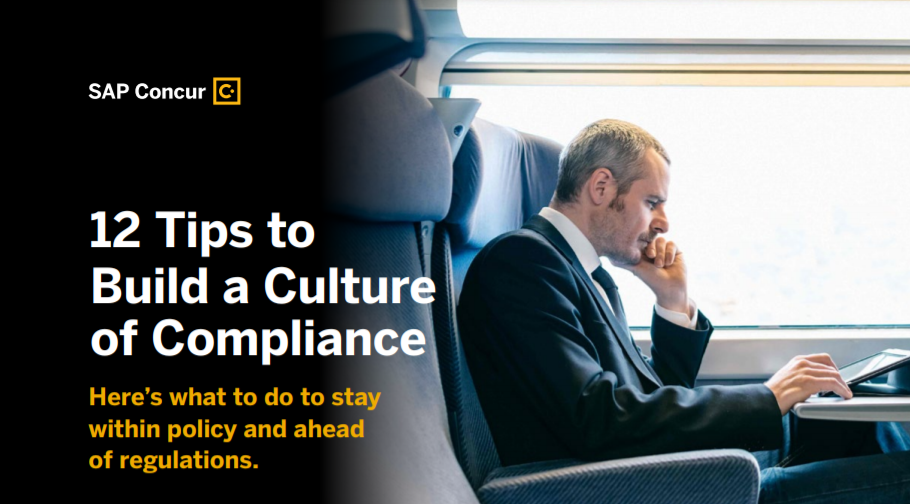 FREE TIP SHEET
12 Tips to Build a Culture of Compliance
Here's what to do to stay within policy and ahead of regulations.
Growth is vital for any business, but that growth can't come at the expense of compliance rules.
And with those rules continuously changing, it can become really tricky for finance leaders to ensure nothing slips through the cracks.
The team at SAP Concur have developed this free guide to help you navigate those rules. It features 12 tips that you and your team can reference to make sure your internal plans are aligned with external regulations. You'll discover:
The highly recommended tool that allows you to keep your bottom line in line while protecting your company and its people
How to infuse analytics at every step of the way so you can keep a close eye on compliance
The tool you can use that makes your preferred vendors, rates, and limits easily accessible to your employees at all times
A trick that, once set up, prevents against over spending, surprise expenses, and costly shortfalls
DOWNLOAD YOUR FREE TIP SHEET

By downloading this asset, you will be subscribed to the CFO Daily News email newsletter that delivers practical advice and resources to help you navigate everyday finance challenges. You may also be contacted by this whitepaper provider.

You can unsubscribe from emails at any time.
Privacy Policy