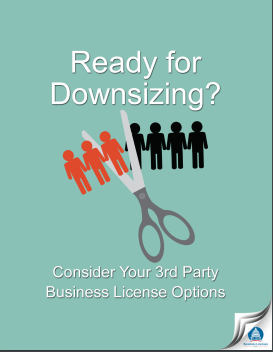 FREE WHITE PAPER
Looking at Downsizing?
Manage Risks and Make Sure Your Licenses Remain Compliant
Just a few months ago, it was business as usual: restaurants were full, students filled classrooms, and offices were humming along.
The COVID-19 pandemic sent a shockwave through every industry, forcing many business leaders to downsize in an uncertain economy.
Maintaining licensure during a global pandemic is challenging, and although license compliance may not be your company's first concern, it is crucial to be aware of the current regulations and the changes occurring.
Many state boards have implemented new policies that put companies in danger of paying penalties and closing locations when they lose key personnel. With regulations changing all the way down to the city-level, business license compliance is not something to be ignored.
Download this quick-read resource for expert insights on downsizing, business license compliance, and how to navigate the COVID-19-induced recession within your business.
What you'll get in this free whitepaper:
A roundtable-style discussion from industry leaders about downsizing, maintaining license compliance, and how to respond to the global pandemic

How a 3rd party business license compliance provider can be a cost-effective solution for companies who are otherwise cutting costs during the recession

Ways to mitigate risk with the integrity and management of your business license portfolio

And more!
DOWNLOAD YOUR FREE WHITE PAPER

By downloading this resource, you will be subscribed to the CFO Daily News email newsletter that delivers practical advice and resources to help you navigate everyday challenges in finance. You may also be contacted by this whitepaper provider.

You can unsubscribe from emails at any time.
Privacy Policy