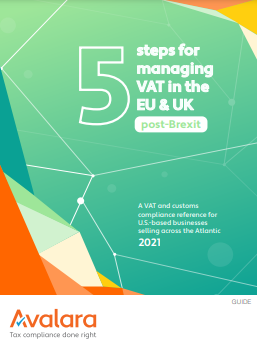 FREE WHITE PAPER
5 Steps for Managing Value-Added Tax (VAT) in the EU & UK Post-Brexit
A VAT and customs compliance guide for US-based businesses selling across the Atlantic 2021
The new U.K. ecommerce package is adding complexity to compliance, especially for U.S. retailers and marketplaces that sell directly to U.K. customers.

As a U.S. ecommerce seller, you face a hard choice on taxes and customs in 2021:
Either register for VAT and report quarterly – or lose customers.

And no one will get away without making that tough decision. If they try, they'll end up with blocked goods at the border, tax penalties, and upset customers.

Avalara has simplified what you need to do if you choose to keep your U.K. customers into five essential steps. Download this free guide today for your five steps to managing VAT post-Brexit.
DOWNLOAD YOUR FREE WHITEPAPER

By downloading this whitepaper, you will be subscribed to the CFO Daily News email newsletter that delivers practical advice and resources to help you navigate everyday financial challenges. You may also be contacted by this whitepaper provider.

You can unsubscribe from emails at any time.
Privacy Policy