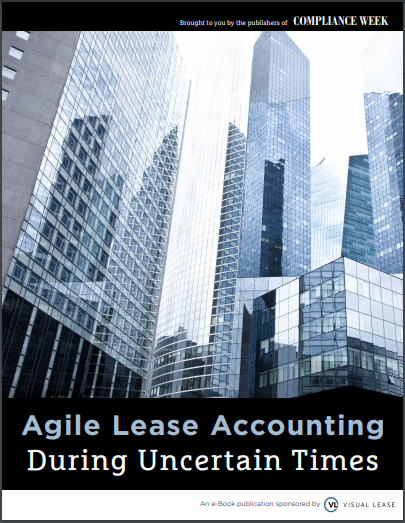 FREE WHITEPAPER
Agile Lease Accounting During Uncertain Times
Best Practices for Improving Lease Management
COVID-19 has wreaked havoc on the market for leased real estate and companies' leasing plans.
In fact, 30% of respondents to a recent survey conducted by Compliance Week and Visual Lease indicated more than 75% of their leased real estate properties were unoccupied due to the coronavirus pandemic.
In addition, more than 60% said they plan to change their approach to leasing business assets.
Now is the time to examine and overhaul your lease management policies and practices while you're working toward rebuilding and compliance with the new Financial Accounting Standards Board (FASB) standards.
FASB recently voted to extend the deadline for private companies to December 15, 2021. Even if you're breathing a sigh of relief, don't make the mistake of putting off the problem.
Download this data-packed whitepaper for the best practices for agile lease management. These insights will help you mitigate risk, protect your company, and maintain compliance with the changing regulations.
DOWNLOAD YOUR FREE WHITEPAPER

By downloading this resource, you will be subscribed to the CFO Daily News email newsletter that delivers practical advice and resources to help you navigate everyday challenges. You may also be contacted by this whitepaper provider.