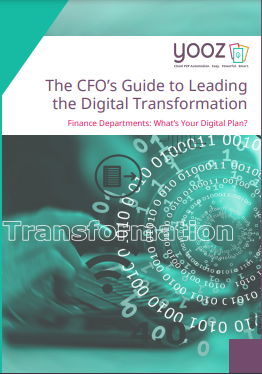 Free Guide
The Finance Leader's Guide to Leading Digital Transformation
In the past year, the pivot to remote work has accelerated the need for digital transformation.
Between clunky manual processes, reliance on paper files and cash payments, and too much importance placed on in-person work, companies that ignore the inefficiencies of their pre-COVID operations aren't equipped to meet the changing needs of consumers in 2021.
But there's a big difference between thinking about digital transformation and actually taking steps to push your organization into the future.
This whitepaper outlines exactly why finance leaders should lead the charge for digital transformation – and how to make it work at your organization.
Download your copy to learn:
Why companies that have fully embraced digital transformation are 25% more profitable on average – and how you can replicate their results
Insights from finance experts about the long-term impact of digital transformation
What tools you can utilize to be successful in your push for automation
Why top tier companies are being more aggressive about going 100% digital in their AP departments
DOWNLOAD YOUR FREE COPY HERE

You will also be subscribed to our email newsletter that delivers practical advice, resources, and products to help you navigate everyday Finance challenges.

You can unsubscribe from emails at any time.
Privacy Policy