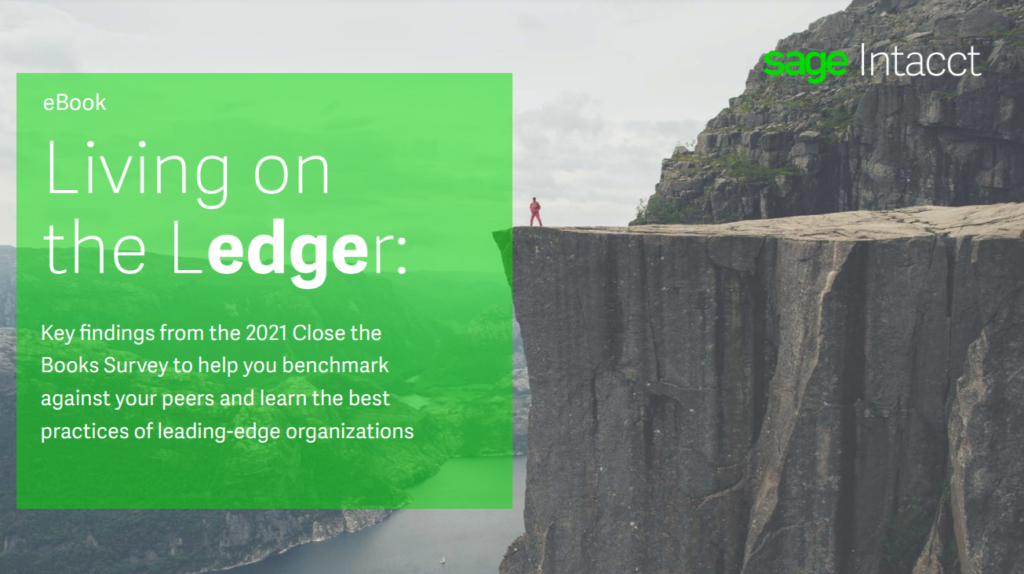 FREE eBook
Living on the Ledger
Slash your time to close with this eBook 
Benchmark against your peers and learn the best practices of leading-edge organizations 
Closing the books for many organizations is an exercise in stamina and endurance. For nearly 60%, the close process takes over a week.
A long, onerous close process not only dampens team morale, but impedes decision-making when current, accurate information isn't available.
What are the bottlenecks? How are companies overcoming them and reducing their close times? And how can you speed up your own processes?
These findings and more are yours with "Living on the Ledger", a free eBook from Sage.
It contains key findings from its 2021 Close the Books Survey to help you benchmark against your peers and learn the best practices of leading-edge organizations 
Get it now and start using its actionable tips to accelerate your close.  
In it, you'll also discover:
The fastest way to shave 36% off your close time 
Average days to close broken out by annual revenue (see where your team rates) 
Key trends in technology adoption – and whether the investments are panning out 
How automation and AI can arm you with insights needed to be a more strategic leader 
5 common bottlenecks – and how to eliminate them  
Why some of the largest, most complex businesses have the shortest days to close 
DOWNLOAD YOUR FREE eBook

By downloading this asset, you will be subscribed to the CFO Daily News email newsletter that delivers practical advice and resources to help you navigate everyday finance challenges. You may also be contacted by this whitepaper provider.

You can unsubscribe from emails at any time.
Privacy Policy