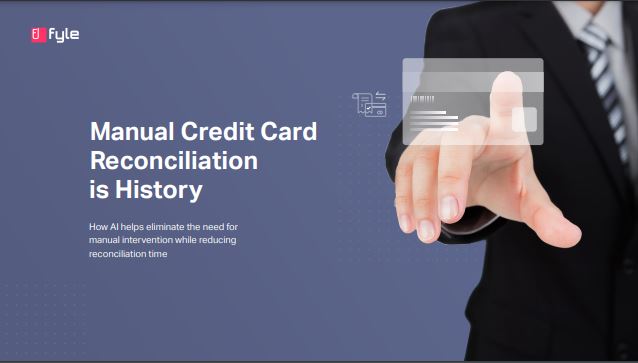 FREE WHITEPAPER
Manual Credit Card
Reconciliation is History

Eliminate the need for manual intervention & reduce reconciliation time
The past two decades have seen a dramatic surge in the adoption of corporate credit card programs by businesses of all sizes and industries.
According to a recent Mastercard study, the pandemic drove commercial card adoption up more than any other digital B2B payment method.
If managed correctly, corporate credit cards can effectively support your business in meeting its strategic objectives by …
Increasing control over employee expenses.
Providing better visibility in expenses.
Offering rewards programs and perks.
Boosting expense visibility with tracking and apps.
As corporate card programs continue to gain popularity, leveraging the benefits becomes strategic for your company, your employees, and your bottom line.
To reap the benefits above and more – download this new whitepaper from Fyle.
In it, you'll get the latest insights on corporate credit card programs, how they can boost your bottom line, and ways they can simplify your expense management reconciliation process.
DOWNLOAD YOUR FREE WHITEPAPER

By downloading this resource, you will be subscribed to the CFO Daily News email newsletter that delivers practical advice and resources to help you navigate everyday challenges. You may also be contacted by this whitepaper provider.