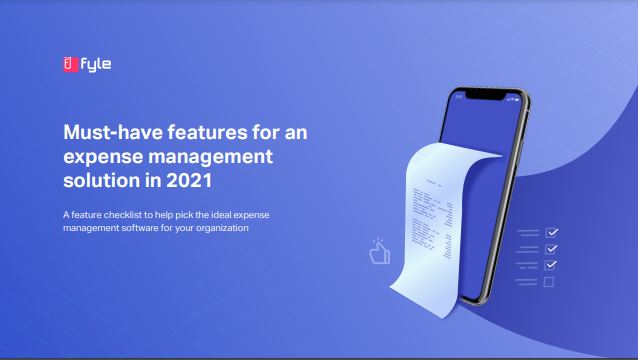 FREE WHITEPAPER
Must-have Features for an Expense Management Solution in 2021

Pick the ideal expense management software for your organization
Are you looking to improve your expense management process?
If you still use paper reports or Excel sheets to manage
your company business expenses, chances are you incur huge
unforeseen costs.
Per a JP Morgan study, companies with automated expense
reporting systems experience a 58% reduction in processing
cost as opposed to companies that use traditional expense
reporting means.
An automated expense management solution can simplify and
streamline your entire T&E process. Additionally, the benefits it
brings extend to both your employees and your finance department.
With an expense software, you can:
Increase control over employee expenses
Have better visibility in to expenses
Offer rewards programs and perks
Boost expense visibility with tracking and apps.
This eBook from Fyle helps you select the best expense management software that fits your exact business needs.
DOWNLOAD YOUR FREE WHITEPAPER

By downloading this resource, you will be subscribed to the CFO Daily News email newsletter that delivers practical advice and resources to help you navigate everyday challenges. You may also be contacted by this whitepaper provider.