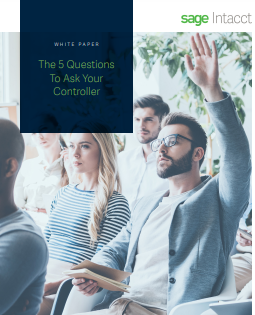 FREE WHITE PAPER
The Top 5 Questions to Ask Your Controller 
The controller's role has evolved and become more strategic in recent years.
It's the controller's job to create higher levels of financial visibility throughout your organization so you can drive growth and profitability.
But it's not just a one-way street.
Finance professionals need to work closely with the controller to ensure that the controller's office is operating at peak efficiency and accuracy – and to ensure that you're getting the full benefit of the controller's talent.
The experts at Sage Intacct compiled the five most important questions you need to ask your controller today.
This complimentary whitepaper will equip you with the tools you need to:
Increase your controller's accuracy and efficiency  
Ensure you're staying legally compliant 
Mitigate financial risks 
Boost transparency and gain deeper insight on your organization's successes 
And more! 
DOWNLOAD YOUR FREE WHITE PAPER

By registering for this webinar, you will be subscribed to the CFO Daily News email newsletter that delivers practical advice and resources to help you navigate everyday HR challenges. You may also be contacted by this whitepaper provider.

You can unsubscribe from emails at any time.
Privacy Policy