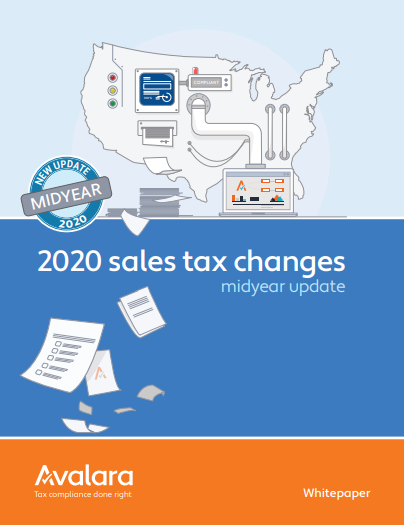 FREE WHITE PAPER
2020 Sales Tax Changes Report:
Midyear Update
2020 has already been full of surprises for everyone, including those in the sales tax world.
The big headliner is COVID-19; no one saw the pandemic coming, nor how strongly it would impact global, national, state, and local economies.
Download the latest 2020 Sales Tax Midyear Update guide from Avalara and discover everything you need to know about the regulatory changes and tax issues that could impact your compliance process, and the major headlines impacting the world of sales tax, including:
Buyer and purchasing trends as a result of COVID-19
Sales tax relief and legislation Economic nexus two years after South Dakota v. Wayfair, Inc. ruling
New marketplace tax laws
Changes to digital taxability rules
And more …
DOWNLOAD YOUR FREE WHITE PAPER

By registering for this webinar, you will be subscribed to the HRMorning email newsletter that delivers practical advice and resources to help you navigate everyday HR challenges. You may also be contacted by this whitepaper provider.

You can unsubscribe from emails at any time.
Privacy Policy