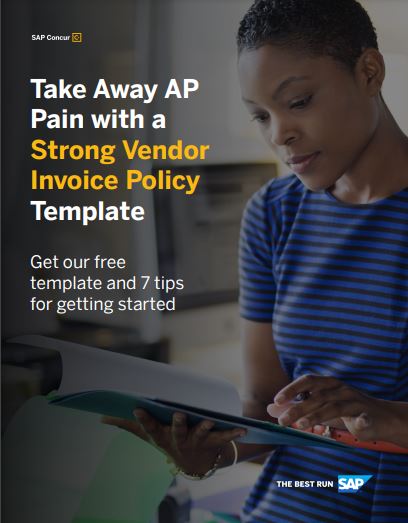 FREE TEMPLATE
Take Away AP Pain with a Strong Vendor Invoice Policy Template
7 tips for getting started


Once created and enforced, an effective invoice management policy can greatly reduce the amount of time wasted on the tasks of approving and processing vendor invoices, addressing exceptions, and managing and storing documentation.
The easier a policy is to understand – the easier it is for your employees to follow and enforce.

To get started, access the 7 tips for an effective invoice management policy in this resource.

Then use the free invoice policy template included as well as the example template language to help create or update your business's Vendor Invoice Policy.

With this resource, you'll be able to:
Create a policy that satisfies needs across departments
Identify ways to work with vendors more efficiently
Keep the policy clear and concise to ensure compliance across your organization
Uncover ways to automate data entry, document storage, and auditing procedure to reduce processing time, streamline workflows, support remote work, reduce errors and fraud, and gain visibility across AP
DOWNLOAD YOUR FREE TEMPLATE

By downloading this resource, you will be subscribed to the CFO Daily News email newsletter that delivers practical advice and resources to help you navigate everyday challenges. You may also be contacted by this eBook provider.