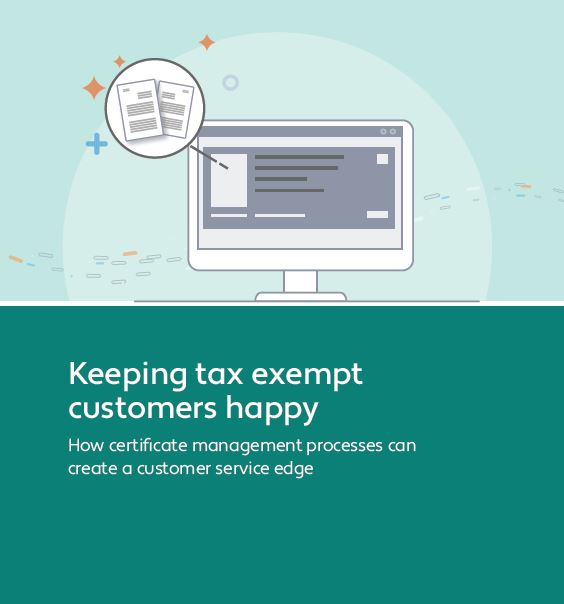 FREE WHITE PAPER
Keeping Tax-Exempt Customers Happy
Creating A Customer Service Edge
We all know that happy customers are likelier to become loyal customers.
But, businesses rarely consider exemption certificate management as an area of improvement for customer service, customer retention, and profitability – and often underestimate the complexity exemption documentation entails.
Mishandled exemption data can negatively impact many areas of business, including inaccurate billings, employees spending valuable time fixing errors, poor customer experience, huge audit assessments, and more.

Although managing exemption certificates is complex, businesses can employ best practices with a well-defined, consistently enforced process that can lead to improved customer service, customer retention, and profits in an area most other companies ignore, creating a competitive advantage.
Inside this quick-read, free whitepaper from Avalara, you'll discover:
Best practices for proper exemption certificate management checklist

Creating a positive customer experience through ease of purchase

Automated collection process through digital channels

18-point Sales Tax Exemption Validity Checklist
Best practices workflow chart for a birds-eye view of cross-functional processes

And more …
DOWNLOAD YOUR FREE WHITE PAPER

By registering for this webinar, you will be subscribed to the CFO Daily News email newsletter that delivers practical advice and resources to help you navigate everyday finance challenges. You may also be contacted by this whitepaper provider.

You can unsubscribe from emails at any time.
Privacy Policy