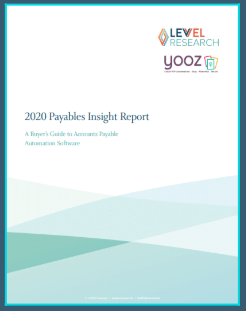 Instant Download
2020 Payables Insight Report
A Buyer's Guide to A/P Automation Software
Your business can't function without its A/P department.
But manual A/P processes are time consuming and inefficient.
Increased efficiency means an increase in profits, so the case for automating A/P is strong.
Traditionally, large corporations with more financial and technological resources have paved the way for automating A/P, but in recent years, A/P automation software has become accessible – and even essential – for businesses of all sizes.
The good news: this has driven a wide variety of A/P automation tools and an increasingly competitive assortment of software providers.
The bad news: there's so many options to pick from that it can be hard to know which solution is right for your organization.
To help you better understand the marketplace for A/P automation software, Yooz (in partnership with Level Research) put together this guide showcasing popular trends in the market in the year 2020 – which will help you better evaluate automation software and see through the gimmicks to find the solution that's right for you.
Download your free copy today – courtesy of Yooz!
DOWNLOAD YOUR FREE COPY HERE

You will also be subscribed to our email newsletter that delivers practical advice, resources, and products to help you navigate everyday Finance challenges.

You can unsubscribe from emails at any time.
Privacy Policy