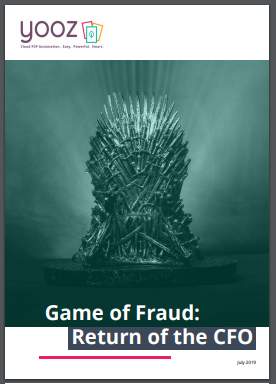 Instant Download
Game of Fraud:
How Finance Leaders Can Safeguard Against Scams
Here's an alarming stat: The Association of Certified Fraud Examiners reported that U.S. businesses lose an average of 5% of their annual gross revenue to fraud.
And this same report reveals that private companies and small businesses rank highest in occupational fraud frequency.
Unfortunately, most small businesses still don't have the resources to safeguard against fraud, or a contingency plan they can activate in case fraud occurs.
This is especially problematic for organizations that have pivoted to remote work.
Companies that take a proactive approach to fraud prevention are better able to protect their finances, their data, and their organization's reputation.
If your company doesn't have airtight safeguards in place, you need to prioritize establishing them ASAP.
In this complimentary whitepaper, Finance leaders will learn how to improve security, spot scam attempts from a mile away, and protect their organization from fraudsters.
Download your copy today – courtesy of Yooz!
DOWNLOAD YOUR FREE COPY HERE

You will also be subscribed to our email newsletter that delivers practical advice, resources, and products to help you navigate everyday Finance challenges.

You can unsubscribe from emails at any time.
Privacy Policy