Read this Practical Tools now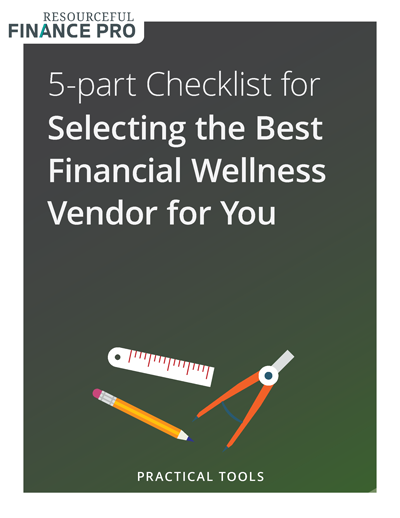 5-Part Checklist for Selecting the Best Financial Wellness Vendor for You
If you're considering providing a financial wellness program for your employees, you're in good company.
More and more companies are looking to provide this benefit.
The challenge is finding the right fit between a vendor and your workforce.
This checklist can help with the vetting process.
In this Practical Tool, you'll discover:
What questions to ask regarding the investment management database, storage, and security
Why the vendor's resources and available tools should get a closer look
Which key decisionmakers in your company should help choose a new partner
Get This Practical Tools
& Much More …
With a HRMorning Insider membership you'll get immediate access to the Practical Tools you're looking at right now, plus all this in your account on day one:
Quality, reliable information you can trust – professionally curated, distilled and delivered to you all in one place.
BECOME AN
NOW
Get this Practical Tools plus 400+ resources - FREE for 21 days
What Our Customers Say
"Highly Recommended"
"From bite sized pieces of wisdom to full on training series, I highly recommend HR Morning!"
Cindy Saunders, SPHR|GPHR|SHRM-SCP,
Human Resources Business Partner
"Get the results you need"
"I knew I had a difficult conversation coming up with one of my employees. This helped me so much to prepare for the meeting. I was able to remain calm and get the results I needed."
Sharon Peterson
"Verbiage to use in real conversations"
"Very straight forward giving you good verbiage to use in real conversations."
Beth Bjorklund
HR Coordinator