Read this Practical Tools now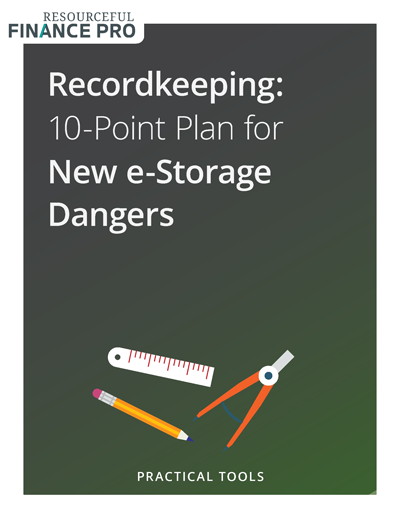 Recordkeeping: 10-Point Plan for New e-Storage Dangers
The migration from print to electronic records has made data retrieval incredibly more efficient for finance and benefits pros.
However, it also means that vastly more information is available for discovery in the event of an audit or a lawsuit.
Ensure you meet your legal obligations relating to Electronically Stored Information (ESI) with this 10-point checklist.
In this Practical Tool, you'll discover:
Procedures to follow in order to avoid sanctions for spoliation of evidence
What the other side's attorneys will be looking for
When outside specialists should be sought
Get This Practical Tool
& Much More …
With a CFO Daily News Insider membership you'll get immediate access to the Practical Tool you're looking at right now, plus all this in your account on day one:
Quality, reliable information you can trust – professionally curated, distilled and delivered to you all in one place.
BECOME A
NOW
Get this Practical Tool plus 400+ resources - FREE for 21 days
What Our Customers Say
"I recommend it highly for busy CFOs and Controllers"
Jane Coelho, CFO,
Documation
"Easy to read, relevant and pertinent information"
Gilber Kouame, CFO,
Prism Health
"It gets right to the heart of the issue and subject matter"
Mark Wilson, CFO,
Cherryland Electric Cooperative